Quiet Wean Nose Flap
Because we believe in providing the least stressful environment for our calves, we have become users of a product developed in Canada called Quiet Wean. They don't have online purchase capability, we have become the only US distributer to offer online purchase via PayPal. You don't have to have a PayPal account to use PayPal! We like it because it's very secure and protects you, the purchaser, because you don't give your credit card information to sellers you don't know.
Oklahoma Producers!
Consider participating in OSU's Oklahoma Quality Beef Network program (OQBN). If you're smart enough to understand why reducing weaning stress utimately benefits your bottom line, you're smart enough to recognize the financial benefits of OQBN. It's a pre-conditioning program that allows those calves to be sold at 1 of 2 special OQBN sales at OKC West (one in November & one in December). We've done it since 2012 and are very pleased with the results.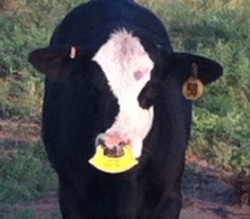 Can reduce bawling by 95% and increase time spent eating by 25%! (note from us: we leave our flaps in at least 2 weeks. Calves are almost weaned when separated)
Prices reduced by $5 per bag and FREE SHIPPING!
$45.15 each bag (25 in each bag) + shipping
(USPS Priority mail flat-rate shipping based on most efficient use of flat-rate containers). Shipping time is 2-3 days.
U.S. ONLY!
If you need more than 10 bags, please communicate with us via the "Get in Touch" link above.
If you need less than 1 bag (i.e. less than 25 flaps), you can now buy individual flaps up to 10. Scroll down to the second dropdown list.
You don't have to have a PayPal account to use PayPal! On the Paypal screen look for "Pay with an online bank account, debit or credit card, or PayPal credit" link BELOW the login form.